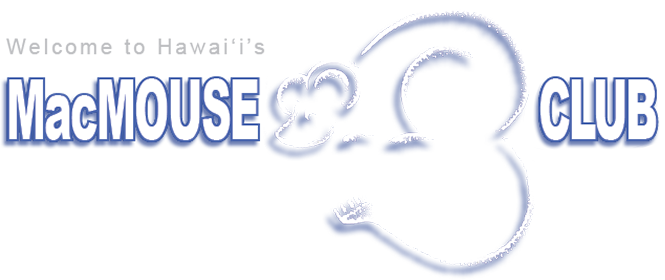 Mahalo Rolf for 20 years of superb service and dear friendship! Whether it is new machines, system installations, trouble shooting or answering my dumb (what I perceive to be) questions you are always responsive and polite. You have have also been an integral part of my success in the real estate industry as I have solely used and relied on Apple products for 25 years. I wish you continued success with MacMouse Club!
Juliana Simone
7/9/2012

Again, Rolf has saved my Mac.
THIS IS ABSOLUTELY THE BEST MAC PLACE EVER.
Pat Meyers
8/20/2012

Rolf Nordahl embodies the courtly manners of Norway and Sweden where he was born and raised before moving with his parents to Minnesota and later, Hawaii. He also spent several years in the Pacific Rim including Hong Kong, working in multi-cultural environments with people of diverse ethnicities before returning to Honolulu. As a longtime Kama'aina, he is also the embodiment of the 'Aloha Spirit.' 
I'm a multi-Mac owner and have known Rolf for almost twelve years. He is one of the best and most incisive computer problem solvers I have ever encountered in my 28 years of owning multitudinous iterations of Mac computers and their corresponding operating systems. 
With his extensive experience, encyclopedic knowledge of all computer operating systems, an eidetic memory and the ability to think outside the box, his customer service is deservedly legion. 
As a businessman and Mac Maven, Rolf is dedicated to servicing his customer database, devoting considerable time and attention to Mac owners and assuaging their concerns and problems with patience, courtesy, understanding ... and swift resolution!
I sometimes suspect that Apple got the notion of their 'Genius Bar' as a consequence of studying the operations of Mac Mouse.
Tony Moon
7/19/2012

I don't know how I could have been in the home-office writing business without Rolf. His technical support has been priceless. Most of my hardware is from MacMouse. But having Rolf available by phone and e-mail when something goes haywire has been my lifeline.
Bob Jones
6/29/2012

Making the decision to go from PC to MAC was one of the toughest I have ever made. Fortunately I knew Rolf who made it a 'no brainier.' Now, I know that I will NEVER go back. I also know that I can ask Rolf for help at any time about anything. Mahalo Rolf for being there.
Ron Martin
6/28/2012

Rolf has been my go-to guy for advice and fixes since before he started MacMouse. He has always been generous with advice and studious in his knowledge of the Mac and its software. I consider myself very good in using about 2% of the Mac's capabilities (book layout and design) . . I need Rolf for the other 98%! He has always been there to install new systems and (more importantly) make damned sure they work perfectly with Photoshop and InDesign. He has also been superb at hardware recommendation from UPS battery back-ups to complete systems, He does his technical research so I don't have to!
Thanks Rolf, for all those years of helping me!
Mac Simpson
6/26/2012

MacMouse and Fleet Street have been partners in city-scaping, way finding, branding, and large format images since forever. We've gotten older a bit gracefully. I take all my Mac service (running the premier large-format production house in Honolulu, it is considerable) business to them.. They always deliver... See them about your computers.. See us about your branding...
Clarence Silva
6/28/2012
We recently relocated to Hawaii and our external drive with over 200 GB of our iPhotos would not mount. Rolf restored our pictures and videos and migrated all of the data onto a new hard drive - 10 years of memories of our daughter saved! Mahalo nui loa Uncle Rolf!
James Mach
7/12/2013
Rolf can part the clouds, quash the thunder, and make water flow uphill. His mighty hammer reconciles all OS trolls to the strictures of justice. There is no gremlin he can't oust, yet he slays no electrons, but raises them only to be helpful and orderly. A giant of peace!
Tony Gill
7/12/2013
We have been doing business for over 10-15 years... you have saved me, my company many times. Your expertise and williness to guide a novice such as myself is why we are and will be a customer and friends for years to come.
Ted Sturdivant
6/28/2012
Rolf is at pinnacle of Hawaii's Mac knowledgable support and willingness to be of real service. It's easy to recommend him because for decades he's consistently shown up with excellence. He's worth the price!
G. Rand
7/11/2012
I just want to THANK ROLF AND MAC MOUSE CLUB VERY MUCH for helping me solve the over-heating and shutting down problem with my MacBook Pro! Rolf suggested that I 'reset the Power Manager.' After I did that, I could play DVDs, online videos, etc., and the laptop did not overheat and no longer suddenly shut down! It is working just great! Thank you very much for being the Great Mac Guru!!!
Dean Masal
8/24/2012
Rolf has been a good friend to me and my Macs for the better part of twenty years. With computers, I need all the help I can get. I am so low-tech as to be essentially no-tech, and I have always been a really slow learner. So I need to be able to connect with an actual human being who can communicate tech stuff in clear simple language. That's Rolf. He delivers solid value for me and my work.
Gavan Daws
6/29/2012